How to Grip a Bat. Door Knocking Knuckles, Big Knuckles, or Rings?
Updates
11/27/2013 added Players Section, and Ted Williams, howtohitthebaseball, and TheInternetHittingCoach.com sections, plus Pujols, Brett Boone and Felix Millan box grip images
10/29/2013 added a Weird Grip section, and Box Grips - Wade Boggs, Allen Craig, Carlos Delgado, Dustin Pedroia, Hanley Ramirez, Matt Adams, Matt Holliday, Matt Kemp, and Shane Victorino
8/9/2013 added Brett Boone to Big Knuckle list
4/25/2011 added Mike Epstein position from 2004
5/13/2010 added Alex Rodriguez GMA comments and picture
5/13/2010 added Pujols and Ichiro door knocker pictures (h/t mudvnine)
3/8/2010 added Mattingly and Aaron pictures (h/t Chris O'Leary)
This is another confusing topic in a baseball swing.
Most recommmend lining up the "door knocking knuckles". Some align the "big knuckles" or "punching knuckles". And yet others "line up the rings". We will explore the pros and cons of each version and give you the correct alignment.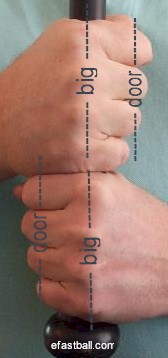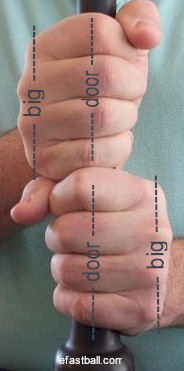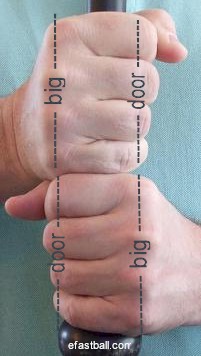 MLB Players Thought They Used Door Knocking Knuckles
'Experts' Advocating for Using Door Knocking Knuckles
Advocates Against Using Door Knocking Knuckles
Not Quite Sure - or Would Not Commit
Some Said The Knuckles Don't Matter
Advocates for Aligning the Big Knuckles
We could not find any active MLB players advocating big knuckles in print or in a video. Billy Ripken said on MLB Network that Brett Boone aligned his big knuckles. However, the 2 clear pictures that I found show him using a box grip.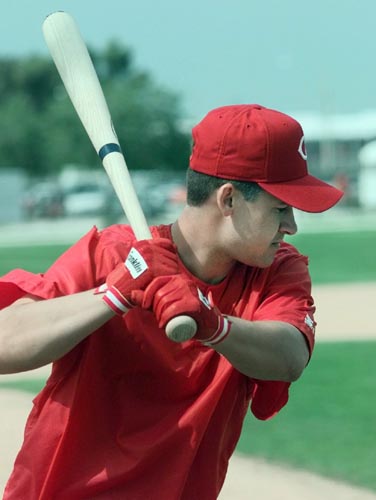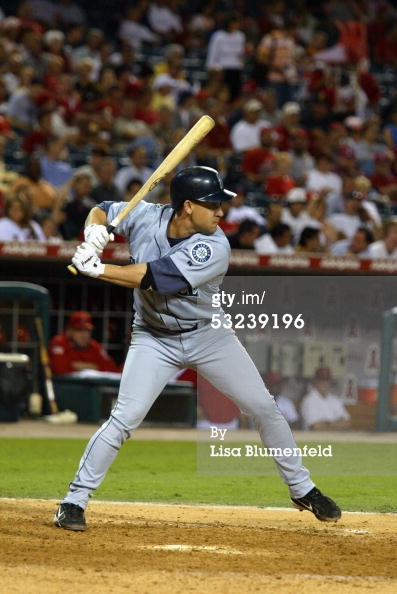 MLB Players Using Door Knocking Knuckles
We spotted a couple of current players using door knocking knuckles in games. Ichiro uses both door knocking or box grip. Pujols has also used door knockers and box grips.
See a
video of Albert's swing with this grip
.
Notice how they must contort one of their hands/wrists in order to make this grip work and to elevate their back elbow.
Players With Just Really Weird Grips
Advocates for Aligning the Rings
Most MLB hitters align the rings using a comfortable, natural box grip.
h/t some images from
Baseball Fever